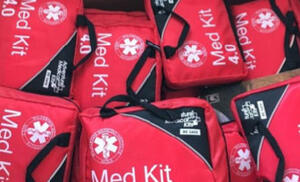 Free NOLS 4.0 first aid kits are available to field research groups that complete a Field Safety Plan, while supplies last. Please email fieldsafety@berkeley.edu for more information.
Additional First Aid kits are also available at the NOLS Store. 20% educational discount available at the NOLS Store when you provide your .edu email address.
Other items suggested by various field researchers and staff:
Extra disposable gloves
Superglue
Glowstick
Earplugs
Epinephrine auto-injector (prescription required, e.g. Epipen)
Tick Remover (pointed tweezers are included in the NOLS 4.0 kit but the Pro-Tick Remedy has also been recommended)
Field eyewash for dust, irritants (e.g. Ocufresh)
Tecnu outdoor skin cleanser (for poison oak)
Sunscreen
Oral rehydration salts
Lightweight Sam splint (also available via the NOLS store*)
Insect repellent
Lightweight emergency blanket (e.g. SOL from Adventure Medical Kits)
Extra moleskin for blisters and hot spots
Extra Povidone-iodine or Benzoin tinctures for wounds
Quikclot (also available via Adventure Medical Kits)
Learn more about Field Safety.