What happened?
An employee was working in the bed of a large pickup truck. The truck was equipped with a Tommy Gate lift and hinged gate doors that opened outward. The employee was attempting to get down from the truck, so he placed his left hand on the door hinge and jumped down. His wedding ring caught on the grease fitting and caused an avulsion* injury of the finger, also referred to as "degloving."
*Avulsion means the removal of the skin and soft tissue, usually leaving the underlying bone and tendons, however fractured or damaged. Avulsions require significant vascular repair and reconstructive surgery. Even if the surgery is successful, the finger does not regain normal feeling and function, and the hand is left cosmetically marred.
What was the cause?
This injury was primarily caused by the employee wearing jewelry (a ring) when working around machinery.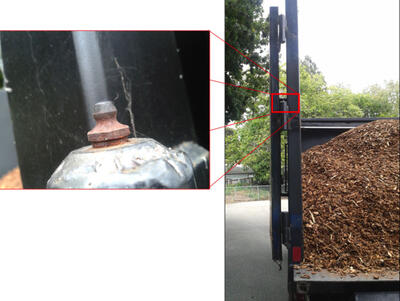 Grease fitting on hinge that caught ring.
What corrective actions can be taken? 
Employees who work around machines and equipment should not wear jewelry on the job site. This includes hand, wrist, and neck jewelry. For medical alert jewelry, it is recommended that employees purchase the type with a break-away clasp.
Resources
For more information, contact the Office of Environment, Health & Safety (EH&S) at 642-3073.