What Happened?
A postdoctoral researcher was reaching into a New Brunswick Scientific Model G-25R Shaker Table Incubator to clean up a spill when her right hand got caught in the spinning exhaust fan blade.  She lacerated her middle finger and lost part of the fingernail.  She was treated in a local hospital emergency room.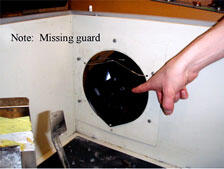 What Were the Cause and Contributing Factors?
The primary cause of the injury was contact with an unguarded fan blade.  The shaker table is interlocked to turn off when the door is open but the fan is designed to stay on.  This would not have been a problem if the guard had been in place.  Without a guard, the unit presented a hazard that led to the injury.
A contributing cause of the accident was the fact that the original fan guard had been removed and not replaced.
Another contributing factor was the fact that the laboratory's self-inspection failed to identify this hazard and correct it.
What Corrective Action was Taken?
A new guard was installed as soon as possible. (The cost was approximately $12.00.)
As an interim measure, staff members were notified to manually shut off the fan when accessing the interior of the incubator. (The fan continues to run for 70 seconds after it is shut off.)
How can incidents like this be prevented?
Staff should conduct spot inspections to locate any other exposed/unguarded fans embedded in their equipment.
When doing maintenance on equipment, be sure that guards are replaced.
When doing laboratory self-inspections, look to see that machine guarding is in place. If you can see that a body part, usually hands, may get caught up in moving equipment or where the machine meets the material (referred to as the point-of-operation) install a guard to prevent any access.
Resources
For questions regarding where guarding is required, types of guarding, and other pertinent regulatory requirements contact the Office of Environment, Health & Safety (EH&S).